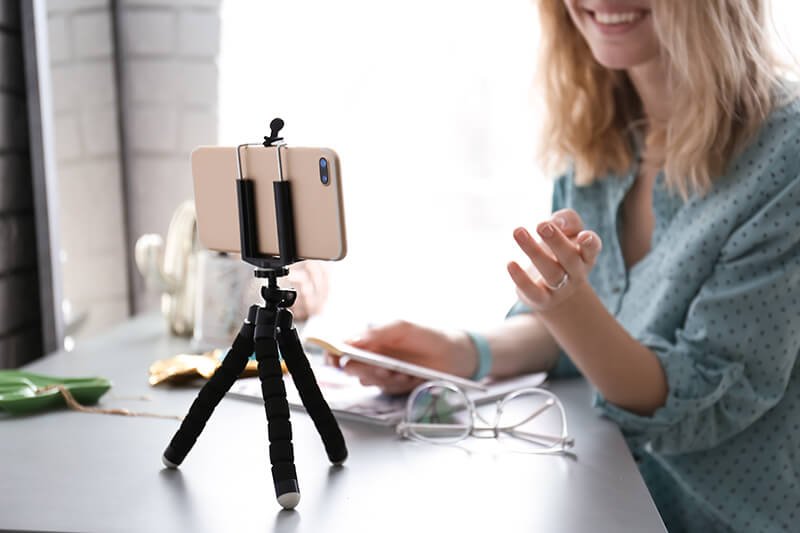 Everyone is jumping on smartphone photography and video. Before you begin your journey into iPhone photography, make sure you have an iPhone tripod. iPhone tripods are essential for any smartphone photographer looking to capture images in low light or self-portraits.
Also, you also can use your iPhone tripod for the new features in the iPhone including time-lapse and slow motion.
iPhone tripods are found at affordable prices, they're easy to operate, and you can get the most out of your iPhone camera. Pair with an iPhone mount, and you are golden. Find which iPhone tripod is best for you as we look at the best iPhone tripods.

1. Xenvo SquidGrip iPhone Tripod
The best flexible neo-rubber legs – You can secure and mount your iPhone in any position you'd like. Around a lamp? No problem. Around a chair? Go ahead! It has the rock-solid holding power to adjust your iPhone camera.
Portability and durability – Bring the SquidGrip smartphone tripod anywhere you go. Its lightweight and compact design pack a punch with unshakable strength and stability. This iPhone tripod can hold a full-size DSLR camera.
Universal Compatibility – The hone mount adjusts and can hold any size phone. Get the ultimate mobile phone tripod for iPhone X, 8, 8 Plus, 7, 7 Plus, 6, 6 Plus, 5, 4, Samsung Galaxy S8, S8 Plus, S7, S7 Edge, S6, S6 Edge, ALL Samsung Note models or any other smartphone.
The Most Adjustable – The iPhone tripod's Ball-Head 360 allows for any kind of position for your phone. Capture photo or video from any camera angle. It includes an all-metal construction ball-head even allows for 90-degree bird's eye shots. Angle your phone perpendicular to the floor too. Great for product and food photography.
Also, this iPhone tripod also comes with a lifetime warranty.
2. KobraTech Cell Phone Tripod
You'll find these great features on your KobraTech Tripod, including:
Its design is upgraded – A tighter ball joint. Get an improved grip to hold any phone in place.
Bring it anywhere with its portability and versatility – Fit it in your bag with ease. Travel with it. The tripod design is flexible, so you won't have a problem standing your tripod on anything. Bend the legs on uneven ground or wrap them on a post.
Included Bluetooth Remote – You can take your own photos and videos from up to 30 feet away.
Universal – Fits any size phone including the iPhone X, 8 Plus, Galaxy S9+, Pixel XL and more.
Includes 2-year warranty.
3. UBeesize Tripod S
One of the top rated iPhone tripods on the market. This iPhone tripod includes:
And Upgrade all around – A full update to the best selling phone tripod in the market. The 10.6 inch, UBeesize tripod S is one of the tallest cell phone tripods on the market.
A greater possibility of wider applications.
Durability – Flexible Octopus style legs made of thicker Premium metal. Full metal connector, reinforced with coating rubber and compact foam. Handles the wear and tear of everyday explorations or the rigor of adventure.
Increased stability – The high-grade metal ball joint supports phone/camera up to 1kg. Locks the heaviest smartphone into position. Non-slip feet design keeps this adjustable tripod steady on virtual ground surfaces.
Selfie mode – Wireless remote control. Allows you to take shots (portrait and landscape) from a distance of up to 30 feet.
Universal phone mount adapter – Works for smartphones up to 3.54" wide like iPhone 8/8 Plus/x/7 Plus/7/6S Plus/6S/6 Plus/6 & Samsung. By a standard ¼ inch adaptor screw thread, It is compatible with digital cameras like Nikon/Canon, DSLR, GoPro (GoPro adapters included).
Includes 3-year replacement warranty.
4. Fugetek Selfie Stick & Tripod
All-in-one selfie stick/built-in tripod: Selfie stick tripod combo.
Super extendable – No twisting to lock with this iPhone tripod. Get wobble-free selfies too!
Wireless bluetooth remote: You can use with iPhone, Android, digital cameras. iPhone iOS and Android 4.3 or newer. Bonus: Bluetooth Remote connects faster than the competition.
Rechargeable Battery, 300 Hours Standby, 1 Hour Full Charge.
Built-in tripod: Feet extends on the Tripod to create selfie-stick.
Non-Skid Feet: For more safety and reliablity. Works great for lectures and presentations.
Includes 1-year hassle-free warranty.
5. Yoozon Extendable Selfie Stick with Wireless Remote and Tripod Stand
The Yoozon iPhone tripod stand features the following:
Lightweight – Designed t to make an ordinary selfie stick lighter but more functional.
Fits many occasions – Extendable length from 7.9 inches to 26.6 inches. Choose your desired length. Compact pocket size design and easy to carry. Includes 360°rotation.
Bluetooth remote can be charged – Charge the Bluetooth remote shutter via micro USB.
Because of the built-in 65mAh lithium battery, it makes the charge last longer.
Compatible with most Apple/Android smartphones: iPhone 8/7/6 series, Samsung Galaxy series, etc.
18 months warranty on their products.