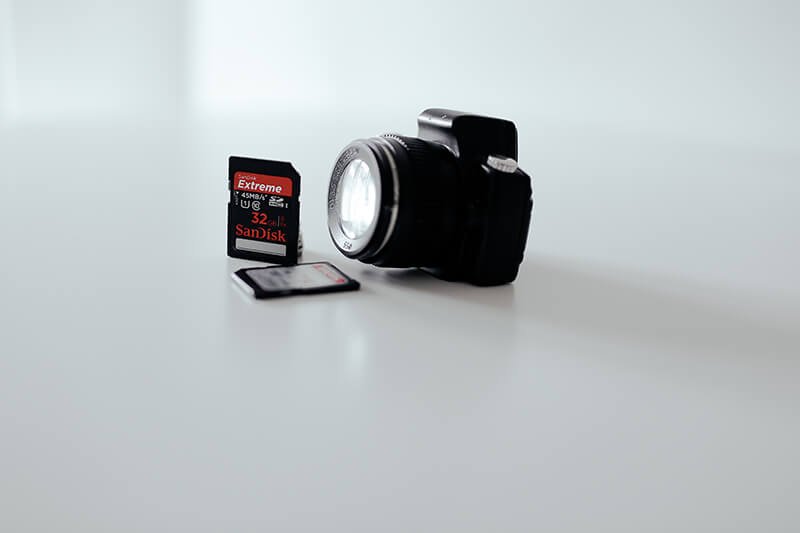 Not too many people connect their magical new DSLR camera to their memory card. Few realize that there are tons of options out there for SD cards. You have to think about memory size, speed, capacity, brands, and what your budget is. You want a card that will stay protected when you travel and go on adventures. River rafting, anyone?
The last thing you want to do is have a memory card that loses all your great photography work. Overwhelmed? No need to be. We broke down the best SD cards for your DSLR camera:
1. SanDisk Extreme Pro 32GB SDHC UHS-I Card
This is SanDisk's most powerful SD card. And for the price? You're getting a good deal on this one. If you shoot in RAW or 4K, you are in luck. Its reads speeds reach up to MB/s, and its write speeds up to 90 MB/s. This card is shock-proof, temperature-proof, waterproof, and X-ray proof. Don't forget about its lifetime warranty, either!
2. Lexar 32GB Professional 1000x SDHC Class 10 UHS-II Memory Card 2-Pack Bundle
Hobbyists and professional photographers alike can appreciate Lexar. Lexar is a champion in the photography world. And this card rivals the above. This memory card deploys UHS-II tech to enable transfer speeds up to 300 MB/s and write speeds up to 260 MB/s. This card is perfect for shooting Full HD, 4K video, and high-res RAW images.
3. SanDisk 32GB Ultra Class 10 SDHC UHS-I Memory Card Up to 80MB, Grey/Black
The second SanDisk card on our list, because it's a fan favorite. This card is exceptional for compact-to-midrange point-and-shoot cameras. This card is 2x as fast as the normal SD cards. It lets you take pictures and transfer files quickly. If you are shooting videos, too it comes with a 10 rating for Full HD video in 1080p. The transfer speeds of this cards are up to 80MB/s. This memory card is waterproof, temperature-proof, X-ray proof, magnet proof, and shockproof. Pair this with a 10-year limited warranty and you are set.
4. Transcend 32GB Class 10 SDHC UHS-II SD Card
 Check Price
The Transcend transcends our expectations here. It's fastest transfer speeds Read 285 MB/s and Write 180 MB/s. Maximize the battery runtime with the card. It features low power consumption and fast write speed. This card even features built-in hardware ECC technology to detect and correct errors. Transcend cards are shock and X-ray proof as well. The Transcend provides up to 32GB storage capacity and a maximum of 2,192 RAW images. Finally, Transcend offers a free download of RecoveRx and a limited lifetime warranty.
When you are choosing your SD card, you are going to want to go by preference. Each of these cards has its own unique features. You want a card that will withstand all the elements and places it can endure. Remember to choose what you need the most with the most space. Read the reviews and pick the best card for yourself.